See the main page of Tour de Sol 2004 Photos at http://www.AutoAuditorium.com/TdS_Reports_2004/photos.html
Unless otherwise noted, these all photos were taken by and Copyright 2004 to John Helwig.
---
Fuel Cell powered GEM, WPI E-Plane Ground Crew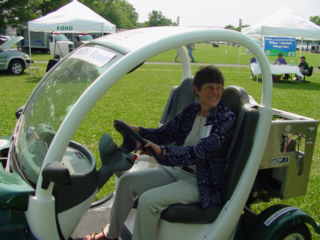 Nancy Hazard taking the GEM out for a spin.

---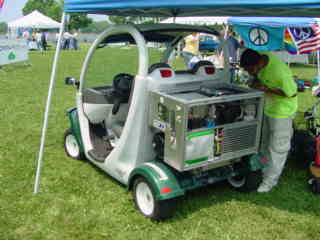 The fuel cell system on the back. The fuel cell itself is in the upper-right quadrant, as viewed from the rear, with the compressor mounted at the upper-center rear. The up-converter is the aluminum box on the upper-left. The radiator is lower-right. The carbon fiber wrapped fuel tank is between the seat back and the lower half of the system frame.

---