See the main page of Tour de Sol 2003 Photos at http://www.AutoAuditorium.com/TdS_Reports_2003/photos.html
Unless otherwise noted, these all photos were taken by and Copyright 2003 to John Helwig.
---
Solar Black Bear, #20
The Solar Black Bear is a working vehicle that is truly solar powered. From May to November it is used around the University of Maine campus, driving about 15 miles a day. During that time it is not plugged in. All of its power comes from the sun.
---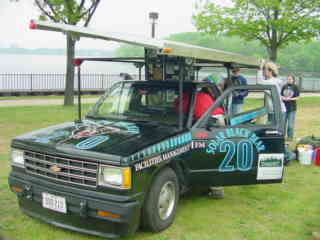 The 1100 Watt solar panel can be tilted to either side and by varying amounts to maximize to sun energy collected.

---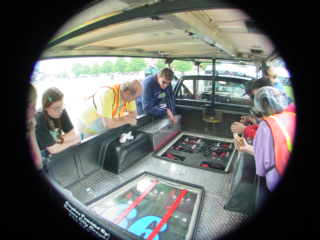 The hatches in the truck bed have plastic covers to show off the batteries without having the terminals exposed. Remove those covers, and the batteries are then accessible.

---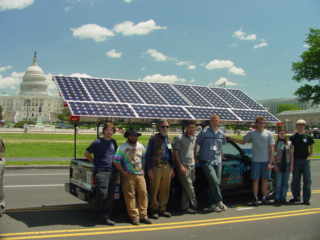 Powered by American Photons!

---